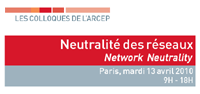 We were waiting for the ARCEP conference on Net Neutrality in France (see "
Net Neutrality Train Next Stop: France (?)"
-
here
).
In the meantime we saw how things have changed quickly in the US - reducing the likelihood that Net Neutrality will become a regulation there.
The conference took place as planned (agenda -
here
), and was concluded by Jean-Ludovic Silicani, président de l'ARCEP (French regulator), setting "5 main conclusions" (document, in French -
here
) - including:
The Internet business (ISP, Content providers) should be transparent

A certain degree of traffic management should be allowed, when congestion occurs and it is done in a transparent and non-discriminating way. It is expected that there will be differences between fixed and mobile carriers

A certain level of regulation is needed - the internet eco-system cannot be exclusively self-regulated
This sounds very similar to the FCC proposed guidelines for Net Neutrality. During the day, it was mentioned that French MNOs are/were blocking VoIP (Skype), while they are investing Billions of Euros in network infrastructure - the classical Net Neutrality conflict. See more
here
.
Mr. Silicani concluded by hoping that France could lead the "Global Net Neutrality" discussion.
Video interviews with conference participants available
here
.