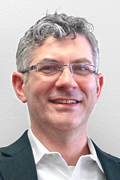 A recent report by Eric Abbruzzese, Research Analyst and Sam Rosen [pictured], Director,
ABI Research
, finds that "
..Regulations on net neutrality have been at the center of attention recently throughout the world.Balancing the interests of businesses, governments, and consumers has been a challenge for all involved. In the United States, the Federal Communications Commission (FCC), with Chairman Tom Wheeler, is especially struggling to resolve a moderate proposal with President Obama's public pro-neutrality stance
[see "
FCC: 'No blocking, no throttling, no paid prioritization'
" -
here
]
The uncertain possibilities of neutrality regulation have impacted operators such as AT&T and Verizon, and vendors such as Cisco in the wireline broadband space, forcing a shift in priorities until regulations are finalized
[see also "
Attn: DPI Vendors - US Net Neutrality Vote on February
" -
here
]
While the United States has the independent FCC at the head of neutrality decisions, groups in Europe and Canada are also facing difficult neutrality changes, with the European Council and the European Union (EU) parliament, as well as the Canadian Radio-Television and Telecommunications Commission (CRTC) leading decisions for the these regions.

Carefully planning investments, and balancing wireline and wireless portfolios, will prove necessary for companies to continue to see success during this wireline-focused regulatory restructuring period .. Operators or carriers that have a heavy focus on wireline, such as CenturyLink or Cisco, may find it difficult to see growth with some regulatory outcomes, while companies with a more balanced portfolio, including Verizon, AT&T, and Ericsson will simply steer resources to the highest return markets".
See "
FCC Discussions on Net Neutrality Hampering Investment in Wireline Broadband, Steering Investment to Wireless
" -
here
.