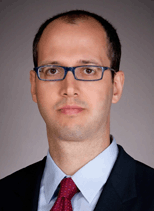 Ittai Kidron
[pictured], Analyst,
Oppenheimer
provided the following assessment on
Allot Communications
' business:
"
In recent years Allot has evolved its core DPI platform into a value added services (VAS) engine with parental control and security as new features. Progress has been solid thus far with VAS now accounting for as much as ~40% of bookings for the company. We believe that mobile security is a key VAS driver and expect revenue from this area to grow at ~50% YoY for the foreseeable future. Tier 1 customers are already at hand and trial activity is heavy.
We expect the company to show more progress in this area in 2016-2017 as trial activity moves into deployment and as the company refines its software licensing program (from perpetual to term) to better capture upside
.
. About 10 Tier 1 carriers have signed up for Allot's mobile security platform. Several of these have already launched the associated services in their networks and have seen strong subscriber adoption (yielding higher ARPUs for mobile carriers). Trial activity with many other carriers remains strong and should yield results in 2016-17.
.
. We believe Allot is now promoting term-based licensing more aggressively to better capture the upside. This process could take time to show results.
See "
Oppenheimer Reiterated Perform Rating on Allot Communications (ALLT) Expecting Mobile Security to Drive VAS
-
here
and
here
.