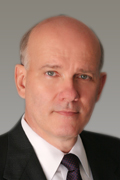 A new report by Joe Hoffman [pictured], Research Director,
ABI Research
finds that "
IMS Core Network deployments are edging up as operators put the necessary infrastructure and capacity in place for planned 2014 VoLTE launches. Spending for the core network products (HSS, CSC, Media Controllers and Gateways, MSF, IBCF, SBC and P-CSCF) integral to a functioning IMS network will reach US$ 4 billion by 2017
"
"
While the IMS driver is clearly VoLTE, operators will also find competitive advantage with a standardized, network-integrated solution that can also deliver superior user experience for WebRTC and OTT services under network congestion
".
See "
IMS Deployments Edging Up as Leading LTE Operators Ramp for VoLTE, Reaching US$ 4B by 2017
" -
here
.