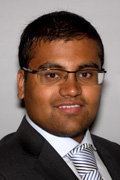 A new report by
Sabir Rafiq
[pictured], Research Analyst,
ABI Research
finds that "
Web and Video Optimization and Deep Packet Inspection (DPI) investment will increase to over US$5Billion by 2019. .. The optimization solutions market continues to challenge those vendors, and continued consolidation is likely to achieve a healthy and sustainable ecosystem. Operators should be concerned with the amount of data consumed by their subscribers, and how this affects the overall Quality of Experience (QoE)."

Video and Web optimization solutions from vendors such as ByteMobile, Openwave Mobility and Vantrix are available to improve user experience and network performance. Deep Packet Inspection and monitoring vendors, Sandvine, Astellia, and others, deliver the data packet intelligence and helps operators ensure QoS/QoE at peak times. Operators can also find help with Content Delivery Networks (CDN) as leading infrastructure vendors, including Ericsson, Nokia Solutions & Networks, Cisco, and Huawei offer differentiated solutions. A focus on content delivery allows operators to optimize content to control the delivery and enhance QoS/QoE"
.
See "
DPI and Web/Video Optimization to Reach US$5Bn by 2019 as Vendors Rise to Meet Mobile Operators' Needs
" -
here
.