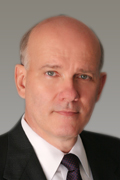 A new forecast by Joe Hoffman [pictured], practice director of mobile networks,
ABI Research
estimates that ".
. the mobile portion of the 3GPP PCRF, DPI, and web/video optimization market as a collective whole will nudge US$ 3 Billion in 2014 and comfortably exceed US$ 25 Billion through 2019. Of this, roughly 80% of the market is DPI and policy related, as video optimization revenues remain challenging
".
According to the above, the mobile DPI/PCRF market for 2014 is expected to reach $2.4B (see also ABI's last year's report - ($20B in 5 years, vs. the current $25B/6 years -
here
).
This is a very high estimate compared to other analysts reports. Some examples:
Heavy Reading said recently that "The initial market for policy servers and deep packet inspection (DPI) gear is pretty much saturated, at least in the wireless sector .. our forecast predicts. We expect the market to nearly double from $1.45 billion in 2013 to $2.8 billion in 2018 [here]".

Back to Joe: "
Net Neutrality notwithstanding, the DPI and Policy markets reflect the operators' need to differentiate and optimize revenues ... Mobile Video and Web Optimization use cases are different from earlier industry expectations. Video Optimization is a necessary table stake for operators and now the focus is on targeted optimization to manage quality of experience under network congestion.

The mainstream infrastructure vendors, Ericsson, Nokia, Cisco and Huawei have all stepped up their offerings with their own or partnered solutions. Likewise, the leading independents, ByteMobile, Vantrix, and Openwave Mobility
[see "
Flash Networks (40%) and Citrix (30%) Lead the Mobile Optimization Market
" -
here
]
provide differentiated and targeted solutions suitable for every mobile broadband operator."
See "
Mobile DPI, Policy and Optimization Markets to Top US$ 25B as Smart Broadband Proliferates
" -
here
.