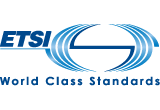 The
ETSI
organization announced recently that "
The first meeting of ETSI's newly created Mobile-Edge Computing (MEC) Industry Specification Group (ISG) took place on 2-4 December 2014, hosted by Nokia Networks in Munich.
The group has attracted 24 member and participant
organizations
[
here
]
, including network operators, vendors, technology suppliers and Content Delivery Network (CDN) providers.
.. MEC is a natural development in the evolution of mobile base stations and the convergence of IT and telecommunications networking. Mobile-edge Computing will enable new vertical business segments and services for consumers and enterprise customers. Use cases include:
video analytics
location services
Internet-of-Things (IoT)
augmented reality
optimized local content distribution and
data caching
See "
Executive Briefing – Mobile Edge Computing (MEC) Initiative
" -
here
and "
Mobile-Edge Computing – Introductory Technical White Paper
" -
here
.
See "
New ETSI Mobile-Edge Computing Industry Specification Group starts work
" -
here
.