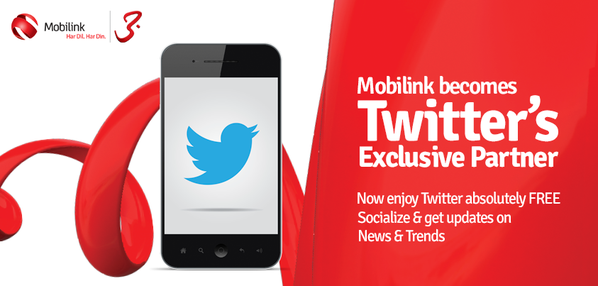 Yet another "sponsored-Data" application for 38M+ subscribers of the Pakistani MNO,
Mobilink.
This time it is
Twitter
. which according to
Alexa's
stats is rated as the 15th largest site in Pakistan.
This follows earlier agreements with
Nimbuzz
[
here
] and
Viber
[
here
], both OTT chat services.
The operators announced that "
Mobilink has entered into a partnership with Twitter making Mobilink the first and only operator in Pakistan to have an agreement with Twitter which is one of the world's largest social media service .The partnership will allow Mobilink customers to use the innovative portfolio of Twitter mobile services on feature and smart phones all for free. Mobilink users will not incur any data charges on Twitter usage through browsing twitter.com on their phone or using twitter applications on their handsets.

Mobilink and Twitter have also launched a co-branded Twitter Pulse Homepage to help non-twitter users experience twitter trends and follow celebrities, communities and brands. To experience twitter pulse, open twitter.com from your feature phone and use twitter pulse without a twitter accoun
t".
See "
Free Twitter Offer
" -
here
.