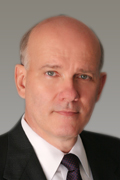 A new report by Joe Hoffman [pictured], research director,
ABI Research
finds that "
The leading Policy and Charging Control (PCC) vendors are "kicking it up a notch" to help operators increase financial performance, especially in relation to their mobile broadband operations .. The Policy and Charging Control market will reach nearly US$3 billion in 2018 with growth coming as subscribers acclimate to innovative, granular, and personalized price plans. The advanced Policy 3.0 solutions will equip operators to rapidly develop new plans and packages while discovering the subscriber's willingness to pay. The synergistic benefits of coordinating Policy, Charging and Customer Experience Management will deliver key competitive advantages
".
The following vendors are covered in the "
Policy 3.0 and Monetization Techniques: Reality vs. Hype
" report:
AdvOSS, Alcatel-Lucent, Alepo, Amdocs/Bridgewater, Aptilo, AsiaInfo-Linkage, BandWD, Cisco/BroadHop, Comptel, Comverse, Elitecore, Ericsson, Huawei, Intracom, MATRIXX, Nokia Solutions and Networks, Openet, Oracle/Tekelec, Orga Systems, Peter-Service, Protei, Redknee, RooX, Tango Telecom, Volubill
and
ZTE
.
See "
Mobile Operators to "Kick it up a Notch" with Policy 3.0 as the Policy Market Heads Toward US$3 Billion by 2018
" -
here
.