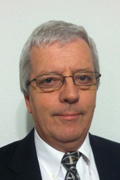 A recent research by Nick Marshall (pictured), principal analyst, mobile networks,
ABI Research
finds that "
Public venue small cells are an emerging class of small cell equipment, which are expected to grow at a CAGR of 67% to $3.1 billion in 2018. The public venue small cell category is a subset of the existing enterprise small cell segment, and will represent 50% of the segment by 2018
".
See also - "
Survey: 98% of MNOs Believe Small Cells are Essential
" -
here
.
"
Deploying, installing, and operating small cells in public venues involves different considerations than street-level small cell deployments. Backhaul, power supply, and increased scale, with dozens or even hundreds of small cells in a densely packed network need to be handled. Also, unlike street-level deployments, public venue small cells face different interference challenges, dealing with higher interference between the small cells, rather than the surrounding macro
"
See "
Small Cells Expected to Carve a Niche in Public Venues, Worth $3.1 Billion by 2018
" -
here
.