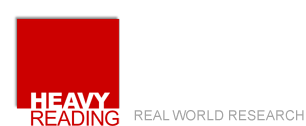 It seems that the policy management market still has a lot to cover, or is still looking for appealing use-cases. According to a recent survey, only 23% of respondents said they are using policy management for the "new-age" use-cases, and the majority is mainly using it for traffic management.
The survey, conducted by
Heavy Reading
(commissioned by
BroadHop
- now
Cisco
), covered the "
current policy use, policy challenges and the benefits SDN (Software Defined Networking) is expected to bring to policy management
" among "
170 telecom industry experts and executives
".
Results:
Policy use cases:

62% still using policy primarily for bandwidth management or data caps, tiered services, and throttling
23% said they were using policy for new service delivery, including data plan creation, user self-care and promotions.
16% not using any policy management solution


Policy Deployment Satisfaction
Policy control deployments challenge:

37% interoperability with other IT and network equipment
24% making a business case based on service differentiation
20% scaling up to high transaction loads.
8.6% Adding new policy use cases was flagged by of respondents and
10% regulatory issues such as net neutrality and privacy


Benefit of running policy management in a software-defined network (SDN) environment:

33% of respondents felt it was too early to tell
28% said that SDN would make it easier to launch new policy-supported services.
The rest were split evenly between the opinions that SDN would make it easier to handle peak loads, that it would reduce the cost of policy deployments, and that it would enable policy to be bought and sold as a service in the cloud

See "
BroadHop Survey: Policy Challenges for 2013 include Scalability, Interoperability and Making a Case for Service Differentiation
" -
here
.