The parental control service got some attention recently following the UK opt-out based regulation and the speech of UK's Prime Minister on the matter (see "
UK to Enforce Opt Out Network Based Web Filtering on All ISPs
" -
here
). This is an opportunity for DPI and PCRF vendors (among other solutions, device or network based), and I has a number of posts on their efforts and success in this market (
Allot
,
Procera
and
Sandvine)
.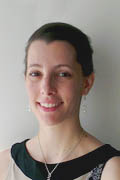 A new report by Michela Menting [pictured], senior analyst,
ABI Research finds that "
Protecting children and teenagers in cyber space is a growing concern for parents, educators, and public administrators .. Cyber bullying and grooming, violent and inappropriate content, exposure of personal data, and privacy violations are all too common threats. Low parental knowledge and lack of adequate cyber education for children is prompting a surge in demand for filtering, blocking, and control technologies".

The child online protection and parental control market is a lucrative one .. ABI Research calculates the global parental control software market to be worth $1.044 billion in 2013. The market will be driven primarily by parental spending; to a lesser extent, educational institutions, such as schools and public libraries, and information and communication service providers will weigh in as well.
Products and services include filtering, blocking, monitoring, data collection, surveillance, and notification technologies. Organizations interviewed in the report include Bitdefender, Blue Coat Systems, BullGuard, Child Helpline International, ChildWebGuardian, ContentWatch, KidLogger, NCH Software, Profil Technology, Symantec, Sordum, Timeon Technologies, Vodafone, and WhiteNet.
See "
Parental Control Software and Filtering Technologies to Drive Child Online Protection Market
" -
here
.