Vendors of standalone DPI or Wan Optimization products were always (close to 15 years now) threaten by vendors of larger systems,
usually
routers, embedding the DPI/traffic management/optimization functions inside - sometimes even as a free of charge feature (although
there were always hidden costs).
Nevertheless, standalone solutions are still here, stronger than ever, managing to sell even in cases where the customer already has a system (such as GGSN or access router) offering a competitive solution.
A combination of performance, features, level of DPI, integration of additional, synergetic, features (e.g. security, video optimization, caching, traffic steering, charging, fair-use), true TCO calculation and other reasons lead customers to buy the standalone solutions (see for example a white paper from
Allot
- "
Intelligent PCEF, Pure-play vs. Embedded Solutions
" (
here
).
A recent research by
Simon Sherrington
(pictured), independent consultant,
Heavy Reading
, analyses the future of standalone vs.
embedded
DPI solutions.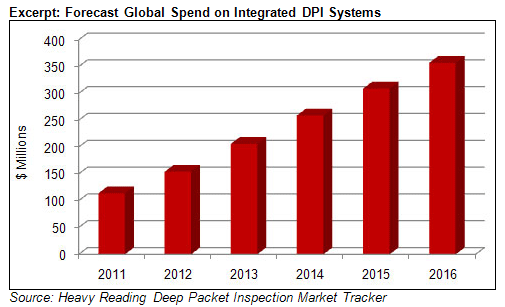 First, HR sees DPI everywhere - "
in routers and gateways, in testing equipment, and even in base stations .. DPI is being taken closer to access networks to aid the management of traffic much closer to customers. This is especially true in mobile networks, where the launch of Long Term Evolution (LTE) networks offers the opportunity to deploy infrastructure with DPI embedded at the outset, rather than added as an afterthought ..Heavy Reading forecasts that integrated DPI solution sales will grow robustly in the next five years. .. the market is expected to rise from a forecast value of around $114 million in 2011 to around $357 million in 2016
.
Does it represent a threat for the "
DPI pure players
" with standalone DPI solutions? According to HR the answer is No: "
Increased integration of DPI into wider technology is not a death knell for specialist vendors of DPI solutions. There will continue to be a need for standalone technologies for various reasons, not least operators' own internal organizational lines of responsibility. However, as it becomes more readily integrated into and usable by management systems and policy solutions, vendors of specialist appliances will come under pressure to increase the utility of their solutions beyond traffic management tasks"
HR recommends DPI vendors- "
They will also find it harder to differentiate on the basis of hardware, and will have to focus on strong software applications and integration capabilities to stay ahead of the pack".
See HR press release - "
DPI Vendors Must Differentiate to Make Their Mark"
-
here
and HR analyst notes: "
DPI Goes Undercover"
-
here
.
The report covers the following vendors (the leading DPI vendors:
Sandvine
, Allot and
Cisco
are missing):
Actiance; Bivio Networks; BroadWeb; Cavium Networks; CloudShield Technologies; cPacket Networks; Freescale Semiconductor; GE Intelligent Platforms; IP Fabrics; Ipoque; LSI; Napatech; NetLogic Microsystems; Netronome; Procera Networks; Qosmos; RadiSys; Sensory Networks; Tilera Corp
.