Richard Chirgwin reports to
The Register
on a recent "
demonstration that's routed 50 Gbps of traffic across multiple different paths"
, by researchers from
ICTEAM
.
"The experimental setup was straightforward enough: two HP DL 380p G7 machines configured with three dual-port 10 Gbps Intel NICs. The test machines were running Linux and hosting a Multipath TCP implementation created by ICTEAM. Netperf opened a single TCP connection between the two servers, and in the video below, the researchers demonstrate the scaling-up of performance, starting with a single NIC and enabling the multipath stack on the additional interfaces".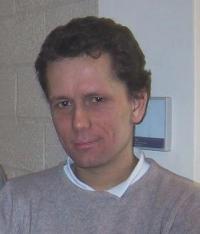 The researchers (Alan Ford, Cisco;
Costin Raiciu
, University Politehnica of Bucharest;
Mark Handley
, University College London;
Olivier Bonaventure
(pictured), Universite catholique de Louvain) published earlier this year thier findings in an IETF RFC ("
TCP Extensions for Multipath Operation with Multiple Addresses
" -
here
and below):
"TCP/IP communication is currently restricted to a single path per connection, yet multiple paths often exist between peers. The simultaneous use of these multiple paths for a TCP/IP session would improve resource usage within the network and, thus, improve user experience through higher throughput and improved resilience to network failure. Multipath TCP provides the ability to simultaneously use multiple paths between peers. This document presents a set of extensions to traditional TCP to support multipath operation. The protocol offers the same type of service to applications as TCP (i.e., reliable bytestream), and it provides the components necessary to establish and use multiple TCP flows across potentially disjoint paths".
See "
Belgian boffins boast after boosting TCP to 50 Gbps
" -
here
.