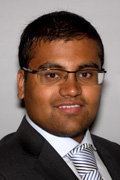 A new report by Sabir Rafiq [pictured], analyst,
ABI Research
finds that "
The subscriber traffic for mobile broadband services will grow at 36% CAGR for the near future. This is good news for Telecom operators and OTT application providers which are continuously looking to keep subscribers happy and provide a better user performance in spite of network congestion. All of which has the potential to increase revenue for operators and OTT providers .. ABI Research believes telecom carriers must focus their attention on securely exposing services internally and to external partners and applications. Turning network services into resources easily accessed via APIs is the future for enterprises, including telcos.

Mobile operators such as AT&T, Deutsche Telekom, Orange, Vodafone, and Infrastructure vendors such as Ericsson, Huawei, Cisco, Alcatel-Lucent, and Nokia open up APIs for developers to use and create features that make their applications more favorable in return. Developers are also keen on using operator APIs, such as handling billing for the developers, which ultimately reduces the costs of development and delivers a better service"
See "
Telecom APIs to Boost US$ 1T Mobile Markets as Operators and Vendors Align
" -
here
.