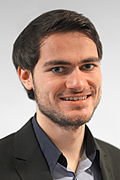 While an
Infonetics
report forecasts 1B fixed broadband connection (by 2019,
here
), a new report by James Hodgson [pictured], Research Analyst,
ABI Research
finds that "
Connected Automotive Infotainment Systems will exhibit a CAGR of 33.8% over the next 5 years, with a rapid expansion in connected navigation and in-car Wi-Fi driving growth. Developed regions, which accounted for over 60% of shipments in 2014, will account for only 37.4% of shipments in 2020. Indeed, just over half of all systems shipping in 2020 will do so in the Asia-Pacific region.

..Many OEMs have made commitments to equip the majority of their consumer vehicles shipping in 2020 with embedded connectivity. Nevertheless, a significant number of vehicles are still expected to rely on smartphone integration for their connectivity, with shipments of telematics systems supporting such integration on average expected to exhibit a CAGR of 60.6% between 2015 and 2020.

.. it is unlikely systems such as Android Auto, Apple CarPlay and MirrorLink will serve as the vehicle's sole infotainment system. Rather, they will complement the OEM's own proprietary system, as is the case with the new Volvo XC90
."
See "
Over 342 Million Connected Automotive Infotainment Systems to Ship between 2015 and 2020
" -
here
.