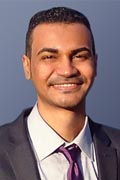 A new report by Ahmed Ali, [pictured] Research Analyst,
ABI Research
finds that "
Service providers and enterprises continue to find new revenue opportunities in Wi-Fi as the number of installed access points ramps up to nearly 400 million commercial and enterprise units by 2019. Emerging technologies like Hotspot 2.0, VoWi-Fi, and 802.11ac in the Wi-Fi space support further development of the current business models and encourage business model innovation"

See also:
[ABI]: Wi-Fi Offload Traffic Volume will Exceed All Cellular Traffic" - here
[Infonetics Survey]: CSPs Expect to "significantly increase" Wi-Fi Access Point Deployment - here
"..
Service providers and enterprises have direct relationships with end-user customers and therefore play an important role in aggregating valuable data and controlling the delivery channels for products like mobile ads and apps. The potential B2C segment is extensive and ranges from small local shops to large international brands
.. Bringing together the supply from hotspot owners with the demand from various businesses creates an expanding B2B ecosystem of innovative solution providers".
See "
Hotspot 2.0, 802.11ac, and VoWi-Fi: Nearly 400 Million Strong Ecosystem to Monetize Wi-F
i" -
here
.