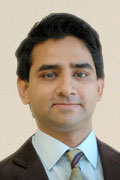 A recent research by Aditya Kaul (pictured), practice director,
ABI Research
concludes that "
.. it's only recently that CEM has been applied in mobile .. sizes the CEM opportunity in 2013 at $1.3 billion across the network and IT domains, although roughly 80% of the market is dominated by the IT domain in areas like BSS/OSS, CRM, and SDP
"
"
The Mobile CEM landscape today is dominated by IT vendors such as HP, Amdocs, and IBM which are leveraging strengths in IT combined with a heavy focus on customer analytics and data mining. However, for CEM to succeed, the network piece including network monitoring, optimization, DPI and policy, has to go hand-in-hand with the IT piece, which is where traditional network vendors come in .. Ultimately, CEM only becomes relevant if done end-to-end, with a single point of ownership within the carrier; something like a NASA mission control with a CEM commander at its helm, having multiple views across Network and IT domains
."
See "
Customer Experience Management for Mobile Is a Billion Dollar Market Opportunity in 2013, Spanning Both Network and IT Domains
" -
here
.