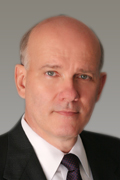 A recent report (
content
) by Joe Hoffman (pictured), principal analyst,
ABI Research
finds that the Diameter Signaling Router market will reach $500M by 2016.
According to Joe,
"A network outage at a top tier operator could put $300M of revenue at risks .. most of the problems to date are growing pains of 4G, and Diameter Routing mitigates a lot of risk
"
"
Leading independent vendors
[
my list
]
have captured initial market share, as Diameter Signaling has been under the radar of the major RAN/EPC vendors. As operators step up efforts to monetize 4G investments, Diameter usage spreads to policy and charging. Diameter Signaling is recognized as a critical control point, and the big iron vendors are now heating up the race".
See "
3G/4G Diameter Routing to Reach $500M by 2016, First Movers Threatened by Infrastructure Vendors
" -
here
. The report covers
Acme Packet, Alcatel-Lucent, Amdocs, Diametriq, Ericsson, F5 Traffix, Tekelec
and
Ulticom.