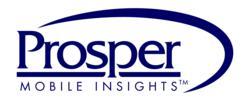 A recent mobile survey conducted by
Prosper Mobile Insights
™ included 328 smartphone and tablet users reveals that "
the major service problems Mobile Users experience with their devices are slow Internet connections, high prices for data and dropped calls. The analysis also shows that men and women take different approaches to deal with these problems and other gadget glitches".
"
Do you ever experience any of the following problems with your mobile device service provider? (Check all that apply):"
Source: Prosper Mobile Insights
See "
Slow Internet Connection #1 Service Problem for Mobile Users; Cost of Data and Dropped Calls Follow, According to Latest Mobile Survey
" -
here
.