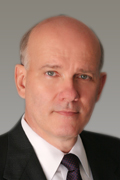 A new report by Joe Hoffman (pictured), principal analyst,
ABI Research
finds that "
4G networks are launching fast and moving to a flat and distributed hierarchy. Dictated by performance needs, data management is moving closer to the network edge.
The historical paradigm for mobile networks is the hierarchical and centralized core network .. This gives rise to the specialist DPI and Optimization firms, such as Allot and Sandvine, who prosper with high performance, purpose built custom hardware that sits in the data stream for inspection and management.

The major infrastructure vendors, such as Ericsson, Huawei, and NSN are stepping up their game by upgrading the performance of these functions in the PGW. The move to distributed networks means only a fraction of the data traffic passes through a local or regional data center. As a result, less computing power is needed and integrated solutions in the PGW or alternatives such as from ByteMobile are increasingly feasible and competitive.

There are great implications for the DPI, Optimization and Policy industry, especially as virtualization moves to the Core Network. With a distributed, virtualized Core Network, blade oriented solutions will provide a highly integrated and flexible solution where Policy, DPI and Optimization are placed in local or regional data centers"
.
See "
Virtualization and 4G Distributed Networks to Upend the $20B DPI, Policy and Optimization Market in the Next 5 Years
" -
here
.