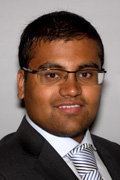 A new report by Sabir Rafiq [pictured], research analyst,
ABI Research
finds that "
.. as the first wave of LTE deployments achieve coverage, VoLTE is the next big thing. VoLTE runs on IMS, and the market will total over $US30 billion through 2019 as it becomes widespread.
Leading infrastructure vendors such as Ericsson and Nokia are fully committed to VoLTE and IMS space and equip customers with this next wave in mobile broadband. Similarly, other vendors such as Alcatel-Lucent, Huawei, and Cisco recognize the impact VoLTE and IMS will have on the market. These vendors are active in the VoLTE space by offering credible solutions in order to attract and retain customers .. IMS mobile core revenue corresponds directly with the popularity of VoLT
E".
"
.. With the availability of VoLTE smartphones, operators realize benefits with improving quality in voice service, and also top-line growth with value adding services. This leads to increasing VoLTE services in smartphones, with
App
le
[see "
iPhone 6 also supports Voice over LTE (VoLTE)
" -
here
]
and high-end
Android
[see "
New Moto X on Verizon to get Advanced Calling 1.0, run VoLTE
-
here
]
devices leading the way.
[see also: "
GSA: 116 MNOs Offer HD Voice - Even on 2G Networks!
" -
here
]
VoLTE will become extremely important in the future and ABI Research believes competitive positioning will lead operators to VoLTE/IMS"
See "
Mobile Broadband Operators Scramble for VoLTE, Creating an IMS Land Rush as Ericsson and Nokia Stake Claims on the $US30 Billion Market
" -
here
.