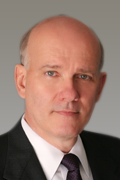 While many think that the legacy DPI, optimization and traffic management functions lose their role in network management due to customers' demand for QoE, OTT services and growing video traffic,
ABI research
thinks differently - and the reason is the use of encrypted traffic.
A new report by Joe Hoffman [pictured], Practice Director, Mobile Networks, ABI Research sees the "
worldwide market for mobile network monitoring and optimization exceeding US$40 billion over the next 5 years... LTE uptake in China leads worldwide traffic growth, including video, and pulls along the monitoring and optimization markets.
Widespread adoption of SSL-encryption changes the game from compression, transcoding and transrating to throttling, pacing and manipulating the Adaptive Bitrate Stream from the content provider to achieve operator goals. State-of-the-art traffic management technology delivers a better customer experience and virtual capacity gains that operators will appreciate.

Mobile optimization is more important than ever and the advent of all IP services, including VoLTE, VoWi-Fi, LTE-U / LAA requires close attention from the operator to assure QoE. With an eye to monetization, DPI, Optimization and Policy remain the largest segments and come together as part of a total revenue enhancement solution.
All leading network infrastructure vendors, including Ericsson, Nokia Networks and Alcatel-Lucent, offer their own or partnered solutions.Likewise, the independents, such as Citrix ByteMobile and Openwave Mobility, provide differentiated, targeted and ready-to-use solutions for every mobile broadband operator
"
See "
LTE Adoption to Drive Network Monitoring and Optimization Spend Past US$40 Billion
" -
here
.