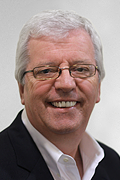 Just after Opera Software added features to handle Wi-Fi congestion (
here
)
ABI Research
finds that Wi-Fi offloading is growing at a "
double-digit rate
".
A new report by Nick Marshall [pictured], Research Director, ABI Research
forecasts that "
..rapidly increasing offload of cellular traffic to Wi-Fi will reach over 17 exabytes per month by 2018 – greater than all of 2G, 3G, and 4G cellular traffic combined.
..In-building wireless data traffic will grow at a double-digit rate to reach more than 50 exabytes per month worldwide in 2020 .. Video remains the dominant traffic type with traffic volume outstripping all other traffic types, while in the enterprise and commercial segment sports venues, transportation and healthcare continue to be the verticals which transport the most traffic with shopping malls and hospitality coming in a close second place.
..DAS
(distributed antenna systems)
and Mobile Equipment vendors are poised to benefit from this explosion in traffic. Leading companies include Alcatel-Lucent, Axell Wireless, Cisco, CommScope, Corning, Dali Wireless, Ericsson, Goodman Networks, JMA Wireless, Nokia Networks, TE Connectivity, Wireless Telecom Group and Zinwave. These companies and others will benefit from increased DAS spending as Mobile Broadband Operators densify networks to meet this explosion in mobile traffic
".
See "
Global In-Building Off-load to Exceed 17 EB per Month—Critical Leverage for Mobile Broadband Operators
" -
here
.