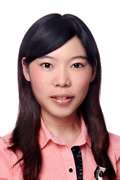 A new report by Marina Lu [pictured], research associate,
ABI Research
finds that "
Worldwide LTE-related subscriptions reached 229.7 million in 2013, and will continually grow at a CAGR of 43.6% between 2013 and 2019, to exceed 2 billion. .. Among the LTE subscription growth, Asia-Pacific contributes the most with a 49% market share. The second greatest contributor is North America with an 18% share .. The large population base in Asia combined with rapid LTE network deployment and cost-competitive smartphones has accelerated the remarkable subscriber adoption."

.. LTE-Advanced subscribers will grow to 750 million in 2019 accounting for 37.3% of overall LTE subscribers. North America will be the most aggressive LTE-Advanced market, followed by Asia-Pacific and Western Europe. Remarkably, the South Korean Operators, SK Telecom and LG U+, commercially launched LTE-Advanced networks in June 2013 and by the end of 2013, SK Telecom gained more than 1 million LTE-Advanced subscribers, which equates to 10% of all its LTE subscribers," adds Jake Saunders, VP and practice director.

The growth of LTE subscribers has also boosted ARPU, because they are bigger spenders than their 3G and 2G counterparts by 35%".
See "
Global LTE Subscriptions to Exceed 2 Billion in 2019, Driven by LTE-Advanced
" -
here
.