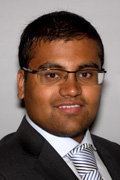 A new report by Sabir Rafiq [pictured], Research analyst,
ABI Research
finds that "
Mobile Network Operators (MNOs) collect large amounts of data from their network, but the use of the data collected is what really counts .. MNOs and Communication Service Providers (CSPs) are actively looking into Big Data and Analytical solutions. They need tools that can impact their businesses and find new ways to reduce costs, improve efficiency of the networks, increase and generate new revenue streams, and increase QoE."
Big Data Analytics are no longer the exclusive province of IT Software, as leading telecom vendors such as
Astellia
[see deployments with
Eastlink
,
Bouygues
,
Zain
,
Orange
,
3
],
Ericsson
,
Nokia Solutions and Networks
, and
Huawei
have stepped up. Software vendors, including Citrix
[see "
Citrix Adds Zettics' Big Data Analytics to ByteMobile
" -
here
]
and
Guavus
[see "
Guavus: Characterization of OTT Traffic without DPI
" -
here
]
, offer big data and analytical solutions to help telecoms collect and analyze data effectively
"
See "
Telco Big Data Analytics is the New Frontier as Mobile Traffic Hits 200 Exabytes in 2019
" -
here
.