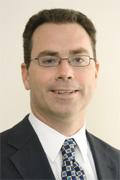 A new report by Ying Kang Tan, research associate and Jake Saunders [pictured], practice director and VP, core forecasting,
ABI Research
finds that "
Even though 4G's share of cellular subscriptions stood at a meager 2.9% at the end of 2Q 2013, it is expected to account for slightly more than 20% of the total data consumed on mobile networks worldwide this year. After surpassing 3G networks in 2016, 4G networks will go on to capture two-thirds of data traffic by 2018 .. 4G data traffic will surge at a compound annual growth rate (CAGR) of 82.2% between this year and 2018
".
"
Already, Verizon saw video accounting for 50% of its network traffic earlier this year. ABI Research believes global annual video consumption will soar at a CAGR of 60.6% to exceed 100 Exabyte in 2018 Despite growing at the slowest rate, Internet surfing will still contribute to 27% of the data traffic consumed .. The result is that the revenue generated from data traffic – excluding that from texting – will increase at a CAGR of 7.9% between 2013 and 201
8"
See "
4G Networks to Handle More Data Traffic Than 3G Networks by 2016
" -
here
.